What we find offensive or triggering is very much in our hands and worth greater examination.
An example of something that triggers the heck out of me and has nothing to do with intention is when someone uses the "care" reaction on my Facebook posts. This feature was added in 2020 in response to the pandemic so it is still fairly new. I use it often on other people's posts to indicate that I care about what the person is saying and for their wellbeing or I acknowledge that what they shared is a tender topic.
I started noticing an intense reaction of disgust when I received care reactions to my posts. I write and share my writing to evoke thought and emotions but don't you dare try to give me your sympathy! I share a similar reaction to George Constanza every time I see those smiley faces holding the hearts.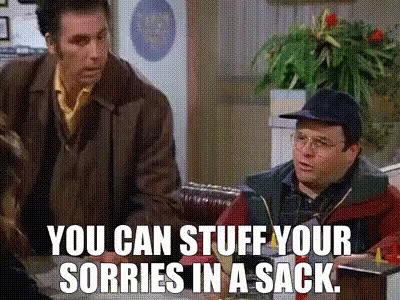 But, this reaction is ALL me.
I know this because 1) there is nothing wrong with someone giving sympathy or care – it's not like it's a reaction with a middle finger, a pile of brown poo or something like that and 2) the friends or acquaintances sharing those reactions are not intending to trigger me.
In this case, I don't believe the 'impact over intent' idea really applies. So I have to go inward to examine why I am having this strong repulsion. What about someone expressing sympathy over my shares makes me want to scream?
I go back to where it all started – childhood.
Examining what sympathy meant to me growing up shines a light on why it conjures up complicated emotions for me.
On the surface, I can say that sympathy was not something that was safe for me. There was no time or energy to be spent in feeling sorry for myself. Sympathy did not get me the results that I needed to provide for my family.
Looking deeper, I realize that sympathy was an emotion I tried to get from others in order for them to do something for me.
Like when I had to call the insurance company to get an exception, I had to induce sympathy in them for my situation in order for them to help me. The same for governmental offices ,the hospital and so on.
Six year old me saw sympathy as a manipulative tool, not a genuine emotion.
Ding ding ding!
No wonder I am repulsed by those care reactions. When I see them, I am subconsciously thinking – "What do they want from me?"
Time to rewire and bring new beliefs to my mind and body –
People care about and care for me genuinely.
I do not need to induce sympathy for someone to care about me or to help me.
I create genuine connection with my writing that goes beyond sympathy.
Our emotions have so many layers and all of them are valid. Triggers are an opportunity for us to examine further into how we can heal and become less burdened with the weight of those triggers.
Inspiration: My friend and I got into a conversation about interactions that have triggered her recently. It had a lot of parallels to my feelings about the care reaction, and I wanted to dive further in. Note: I believe in impact over intent, and if someone is saying or doing things that are misogynist, racist, homophobic, etc., there is something to be said about being hurt and triggered. I also believe that in many cases, our triggers are entirely one-sided where intent is not one of malice or an indication of broader system societal issues. In most cases, we can heal our wounds to a point where the impact of triggers on ourselves and our mental health is lessened.